Kidderminster Rubbish Removals Waste and Junk Clearance Services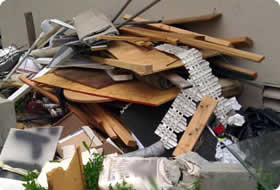 Cheaper and more efficient than skip hire
Kidderminster Rubbish Removals has over 15 years experience in providing a professional efficient rubbish and junk disposal service to both residential house owners and small business premises across the Wyre Forest from our base in Kidderminster Worcestershire. We provide a cheap collection and disposal services that is real lower cost alternative to skip hire.
Fully Licensed Junk & Waste Removals
We are a fully licensed rubbish and junk disposal company making life easier for you as there is no skip hire to accommodate or have to worry about overnight with highway and lighting regulations for skips or blocking access to driveways and businesses.
Our Removal Technicians Will Load All Rubbish and Junk For You
Unlike skip hire our removal technicians do all the lifting and loading on to our disposal vehicle, so you don't have to even get your hands dirty, just show us what you want disposed of and your problem will disappear on the day and at the time you want it to.
Domestic Household Rubbish and Junk Disposal
We remove all types of rubbish from private homes including furniture items such as sofa's, washing machines, fridges, garden waste, old sheds, garages and builders rubble. Single items to large loads, our team will handle your waste problem fast and will fit in with your daily scheduled, simply request a quote and when you are ready book a time slot and our team will be there to complete the task so you don't have to be waiting around all day for a skip hire to arrive or be removed.
Small Business Services
Waste disposal for small businesses is getting more expensive every year with most skip hire companies contracting you up for a weekly or monthly and yearly term. We at Kidderminster Rubbish Removals are happy to dispose of your waste when you need it removed. We offer a fast efficient low cost non skip hire service, all you have to do is call us and book a time slot. We dispose most kinds of waste and junk for small businesses with no skip hire blocking parking places or access.
Rubbish Recycling
Landfill is now getting so expensive and even attracts an EEC Tax. We try with all collections to recycle as much waste as possible, disposing of it in sustainable ways through our extensive network of local charities and material recycling facilities. Your waste may go to help create employment for disadvantaged people, furniture can be renovated, paper, cardboard and metals reclaimed, We are currently recycling 82% of all collections and improving on this every year.